In 2013, 70 years after the dairy was written, and 40 years after the death of Shinichi, his relatives gathered and took a look at their father's unique record. They asked themselves "Why did our father risk his life to record such evidence?"
And they started a project to create a Web Museum which expresses the father's will.
To start, they photographed all the pages of the journals. They wore white gloves to protect the original documents which were turning brown after 70 years.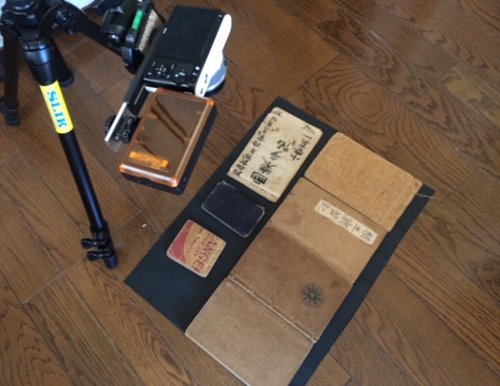 Hundreds pages of unpublished documents still exist
Shinichi used liquid medicine to make the colors for his illustrations. After 70 years the colors of his paintings are still bright and covey vivid impressions of people in the Philippines, on the battle field, surviving in the jungle, and living in prison.
At the closing of his journals, Shinichi wrote, "I might have experienced the raw nature of human beings during the war." Shinichi recorded human realities by remaining objective and neutral towards all parties. This helps us to imagine what we might be under such harsh conditions.
[A steep cliff after Yamato Basin stands Mt. Ontake]
Hundreds of people, unable to climb this cliff, are left to die.
Some are chanting the name of Buddha,
Some are begging for water,
Others are seeking for food.
Yet, nobody cooperated to survive.
It was like a picture of hell.
There was a mound of corpses in the dried riverbed.
And afterward, corpse candles lighted, the scene was merciless.
(Note: Japanese military oftentimes gave Japanese names to physical features in occupied countries.)
Ryojin Nikki Museum is still under construction. We welcome your ideas for the completion of this project.