Shinichi kept a diary for three years, from when he was dispatched to the Philippines as a civilian officer at age 32, until he returned to Japan.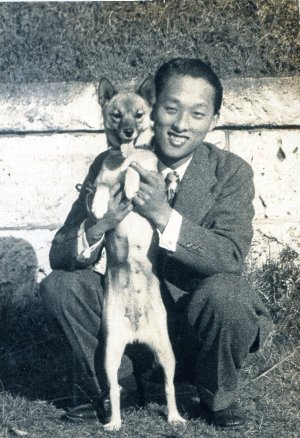 Shinichi & his dog
 
He was born in 1911 in Tokyo, and grew up in a carefree environment. However, his father failed in his new business, which was listed in Shinichi's name, and Shinichi received a bankruptcy declaration by the time he graduated from college.
He followed the Japanese aesthetic of Wabi-Sabi and Furyu, which led to his lifelong goal of always striving to live life for the moment, and thus was enriched by grace even during difficult times.
He joined The Japanese Canine Preservation Society as a college student, and acquired an excellent Ainu puppy while doing research in a Hidaka Ainu (native Japanese people) village in Hokkaido, and kept him as his pet named Zema. Shinichi loved outdoor life and spent much of his time with Zema in the mountains and rivers. Zema was Shinichi's partner until he got married. (He left behind "Zema's life," a picture book.)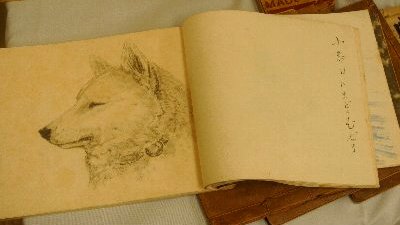 A drawing of his favourite pet dog, Zema
He studied fermentation at Tokyo University of Agriculture and after graduation, pursued 7 years of research, first at the Ministry of Finance Institute of Brewing, and then at the Ministry of Agriculture's Research of Uses for Rice. The years of resseach are what prepared him for the mission in Taiwan which was the construction of a butanol mass production plant.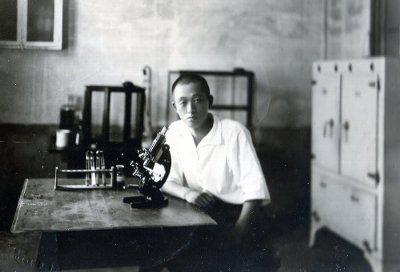 Shinichi researched microbe at university
He married shortly before leaving for Taiwan, and completed his mission in 4 years. The Pacific War began during this time. In 1943, the military, seeing his accomplishments, put Shinichi in charge of butanol production in the Philippines. Because they were denied an oil supply by USA, producing a substitute fuel was of utmost importance for the Japanese military.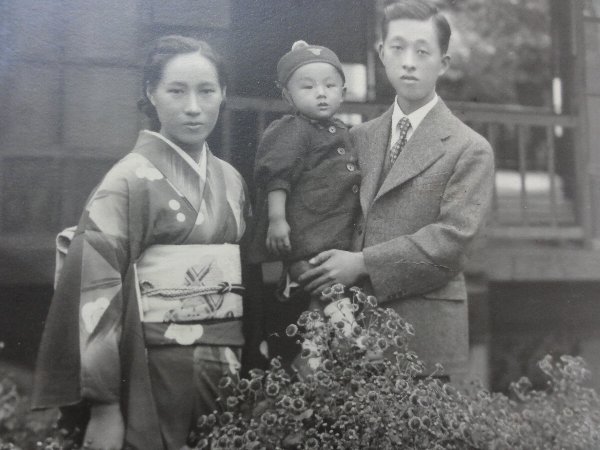 He went from island to island risking his life to improve butanol production, and then worked at the facilities in Negros Island. One third of the unit was either bombed or killed by guerilla forces in Negros. When the US military landed in Negros, all Japanese escaped into the jungle and half of them starved to death during this 6 month period.
His good fortunes cannot possibly be explained as simply "luck," and he narrowly escaped death on many occasions. Why did he experience so many miracles in just 2 years?
After losing the war, members of the Japanese military surrendered, and Shinichi began his life as a prisoner of war, a period that lasted for over a year.
Why did Shinichi choose to keep a diary, at a time when simply writing a sentence was difficult? When most people panicked and lost their senses, we see that Shinichi was able to keep his presence of mind.
During the US air attacks on Japan, his family lost everything. When Shinichi returned to his family, he had to start all over again. He worked in the food and brewery industry and in later years created a group purchasing system for alcohol ingredients to help small to medium sized breweries. He also became the father of three sons and a daughter.
In 1973, at the age of 61, he died of a stroke. In 1975, Ryojin-Nikki (published by Chikuma Publishing) received The Mainichi Publishing Culture Award.